EOS - THE DATA ECO SYSTEM
Blending decades of experience and a passion for new technology we have developed a digital platform which will change the way we monitor and operate energy assets.
The ethos is simple, integrate new digital technology with the existing SCADA systems to add value by improving information visibility.
The ultimate goal is improve availability, relaibility and reduce offshore visits to help operators reduce the levelised cost of energy.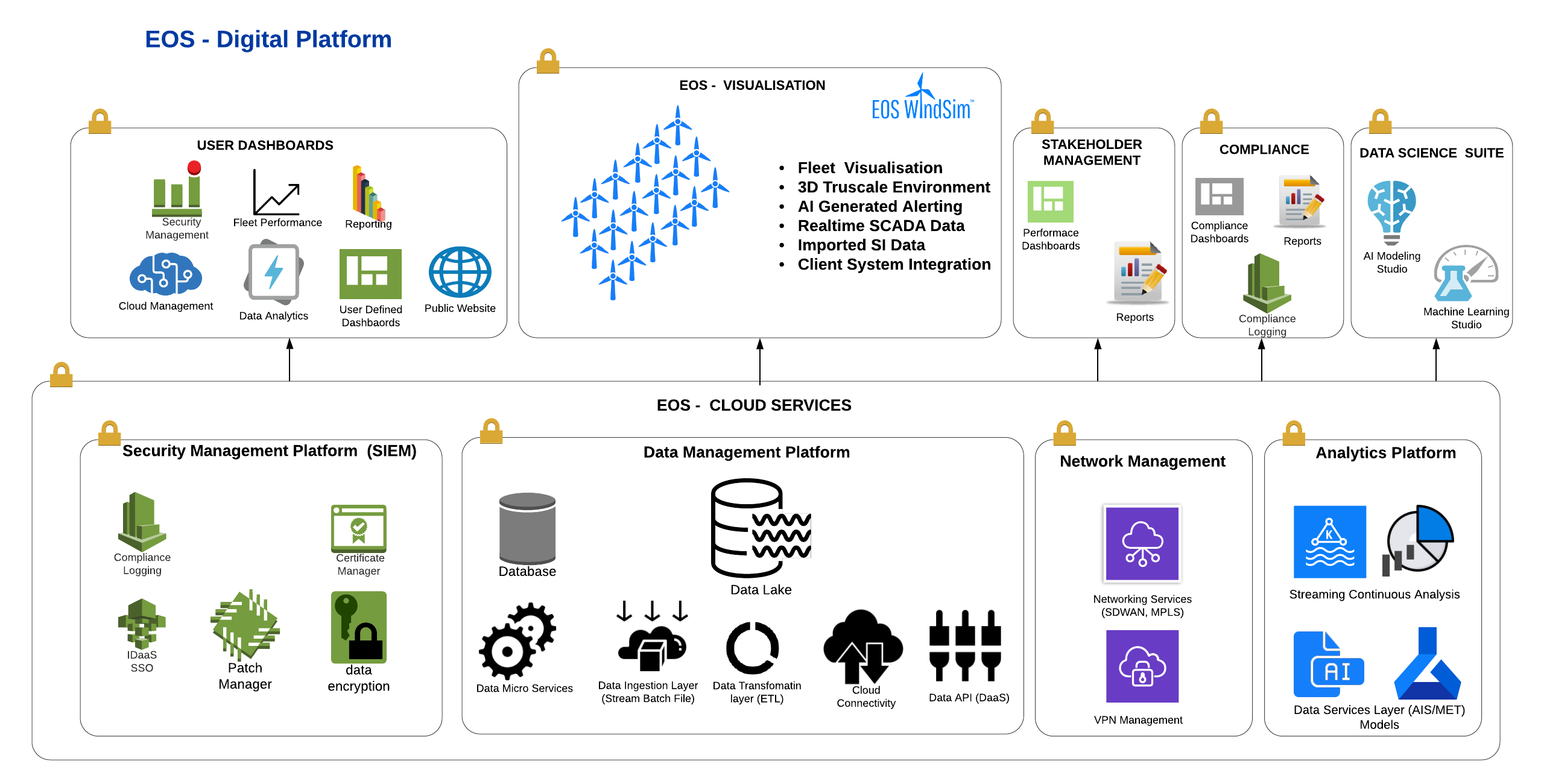 ODiGE have designed a platform  to revolutionise the way we monitor energy generation assets. A game changing front end with EOS WindSimTM  and the latest back end service platform from the Fintech space.
The EOS Cloud Services  - The supporting data and services platform (the back end) is developed and supported by a team of experienced financial technology professionals. Bringing cutting edge developments driving the open banking revolution directly to the energy sector. And although they make it look and sound simple the large choice of products and services on the market can make this a daunting task.
The first big decision, who do we  go with.. Microsoft, Google or Amazon? They will all be offering attractive  bundles with a view to locking you in for the ride. However this doesn't have to be the case, a cloud agnostic system can take the best from all and integrate them together, ingest data from one cloud platform and store it in another, run a service on a data feed and put it back into the same lake/ cloud, and if you find a vendor offering a new unique service then create the API and use it.. No reinventing the wheel, and continuously and securely analyze all data as you go. So for us  this area is completely flexible, ODiGE can implement services across all cloud platforms and advanced services on the market. This keeps us very flexible to respond to future technical developments and client requests. 
Implemented on Fintech standards the EOS Cloud Services brings cutting edge security monitoring and  reporting which is highly likely to be a future requirement with the Operators of Essential Services (OES) regulations.
Moving to a flexible,  secure cloud solution you can start to unlock your data,  The longer you store data in a traditional database in a database or warehouse the more data debt you will incur. 
SCADA Integration - ODiGE are working with Copa Data one of the worlds leading SCADA provider, their Zenon product is used by ABB and Siemens. Copa Data's Service Grid which we will be integrating with our EOS WindSim™ system to demonstrate the operational SCADA aspects.  We understand that most clients will have SCADA supplied as part of a EPC package and may not be Zenon based however the data exchange protocols E.g. IEC60780-5-104 are standard and so integration to HV SCADA and WTG SCADA would be relatively straightforward.  Fleet SCADA systems would also be technically simple to integrate. 
AI & ML  -  Finally the cool bit that everyone is looking at, AI & ML and early prediction of faults. We aren't data scientists but we will cover the data engineering and data ingestion and create the environment for the AI/ML models to run. That said anomaly detection algorithms can be implemented as part of the data ingestion and transformation process so continuously comparing the SCADA data as it's ingested into the system, which can raise alerts directly to the operators on top of the normal SCADA alarms and events.
We are also working with the University of East Anglia (UEA) to look at specific control and protection data to see the benefits of AI and ML. This could potentially use the hi-res data we don't normally collect to look for potential faults manifesting in the  electrical network, This would be a driver to ingest and analyse hi-res data with the EOS platform.
We are actively looking for owner / operators to work with for this project. Please don't hesitate to contact us if you are interested.